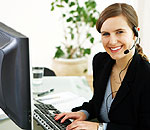 SERVICE
Malt Products Employees Work hand in hand with customers to achieve their goals. Highly skilled food technologists strive to help customers select the best sweetener for various products. Our responsive employees help choose from an almost infinite selection of light or dark, and mild or hearty types of sweeteners. Also, our researchers work closely with other researchers to enhance products by use of high quality sweeteners.

Specially trained service representatives have the experience and support of highly technical laboratory instruments essential for new product development. These representatives can help customers find the specific type of ingredient that provides the required characteristics. We invite use of Malt Products as an information source to achieve the best effect from various types of sweeteners. The many experts in all departments of our plants are able to solve even the most difficult formulation, new application, developmental or distribution problems.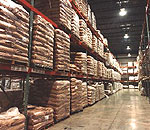 DISTRIBUTION and MANUFACTURING
Uniformly processed ingredients are distributed from numerous stocking locations in the U.S. and Canada. Manufacturing plants are located in Maywood, New Jersey; Dayton, Ohio; Peterborough and Chatham, Ontario; in the United Kingdom and in the Netherlands. There are sales offices located across the United States, the U.K., the Netherlands, Germany, South America, Africa and the Far East. From all of Malt Products many locations to any customer processing sites, customers can rely on malt and molasses that have the same characteristics, shipment after shipment to all locations. And now that customers can order both malt and molasses from the same company, accountability is narrowed to fewer people. Thus, customers spend their time more efficiently.

By working with these two companies, advantage can be achieved through single source purchasing, efficient deliveries, labor and storage space cost savings, resulting in less paperwork and fresher inventory.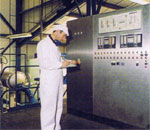 QUALITY CONTROL
Malt Products assumes full responsibility for product quality from manufacturing through distribution. The quality of our products has always been of primary concern. In keeping with that tradition, Malt Products now use more statistical process control (SPC) than ever before to guarantee that our customers receive the highest quality products. The modern concept of SPC involves using measured data to ensure that a process is progressing within predetermined limits. Typically, a manufacturer tracks the process to determine if the process is in control. If the process is in control, the product will meet the established quality and cost efficiency goals.

To meet our customers goals, we use one of the industry's most stringent and comprehensive quality control programs. This includes the internal and external use of Total Quality Management Programs, Materials Requirement Planning (MRP) systems, and The Hazard Analysis Critical Control Point (HACCP) program. Every employee at Malt Products contributes to providing customers with high quality ingredients. The employees involved with manufacturing and distribution have received training in the appropriate programs to ensure products and procedures meet our high standards.

We check quality at every step of the production process. In malt production, for example, growth, temperature, air flow, solids content, pH, color, enzyme activity and other parameters are continually monitored and carefully controlled to ensure the reported values are as close to the ideal value as is possible. We have expanded the quality control departments in all of our manufacturing facilities, with more frequent sampling and controls taking place. Malt Products will gladly provide detailed quality control records and conformance certificates. Quality control includes product testing, plant procedures testing and testing to ensure sanitary conditions in production, packaging and warehouse areas. Malt Products' preoccupation with quality allows our customers the choice of minimizing their inspections because we become their "partners in quality." In fact, we have even formed a task force that responds quickly and professionally to help solve tough, on-site application problems.