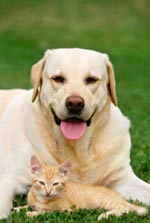 Malt Products Corporation is a leader in the humanization of Pet Food ingredients for the enhancement of palatability and nutrition.

Malt and Molasses products are being used extensively in various Pet Foods. Their flavor, color, sweetness, binding, humectancy and bulking characteristics provide many opportunities to formulate products with enhanced palatability. Dogs and cats in particular are enjoying products made with malt and/or molasses. In many cases, flavor masking is a major problem when pharmaceuticals or bitter ingredients need to be used and it has been found that malt and/or molasses provides just the right masking needed to get the pets to consume these products. Hairball removers are a good example.

Both liquid and dry malts and molasses are available.

Ask us for the best product to use in your application.